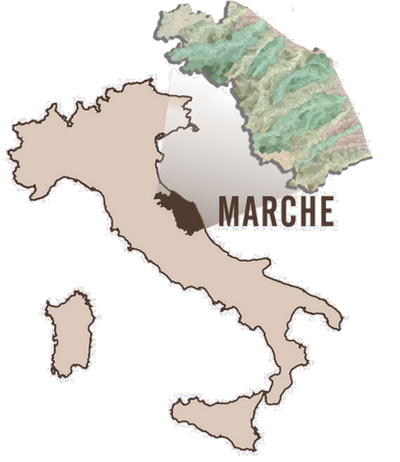 Geography
Le Marches is located in central Italy, on the eastern side of the Apennines.
It has a long coastline (173 km) facing onto the Adriatic sea which borders to the north with Emilia Romagna and to the south with Abruzzo.
The major areas under vines are situated inland, in zones sheltered by the mountains.
The climate is temperate-Mediterranean, obviously influenced by the Adriatic sea and by the N-E cold winds.
Grapes / Wines
Main grape varieties are: Verdicchio and Pecorino for white wines; Sangiovese and Montepulciano for reds.
Minor varieties noted for their quality include Aleatico, Lacrima di Moro d'Alba, Vernaccia di Serrapetrona, Passerina, Bianchello, Ribona (or Maceratino), Trebbiano.
The region has 5 DOCGs, 15 DOCs, 1 IGT with 17.400 ht under vines and a production of 1,04 Million hl (2013 data).
The most important denominations are the two Verdicchio (Verdicchio di Jesi and Verdicchio di Matelica) and the red Rosso Conero and Rosso Piceno.
The region has acquired a growing reputation for the quality of its wines in recent years, and the Verdicchio in 2015 has been the most awarded white wine in Italy taking into account the reviews from the 8 main Italian wine guide books.
Mondavi
Le Marche is also the region where the Mondavi history starts.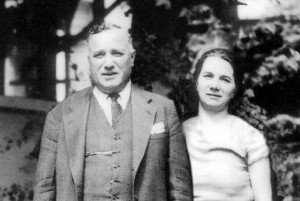 Cesare Mondavi and Rosa Grassi, Robert Mondavi's parents, emigrated from Sassoferrato (Ancona – Marche ) and settled first in the city of Hibbing (MN).

Robert Gerald Mondavi was born in Virginia, Minnesota. From Minnesota the Mondavi family moved to Lodi, California where Cesare was working as grape salesmen.

In 1943 Cesare was convinced by his sons Robert and Peter to purchase the Charles Krug Winery .. and from there the history of Mondavi is well known!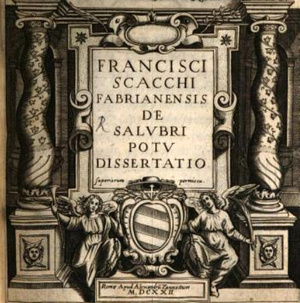 Wine history
The region has a long history in wine production witnessed by many events and writings.
One of these latter is "De Salubri Potu Dissertatio" (dissertations on healthy drinking ) wrote by Francesco Scacchi ( doctor from Fabriano) in 1622 where apart from medical considerations and health benefits linked to the consumption of drinks he provided important information on the 'second fermentation in the bottle' (metodo classico).
Much earlier than the 1670 when the French date back the work from Dom Pèrignon (from the Hautvillers abbey) that is considered the inventor of the Champagne.