( data from Asso Enologi )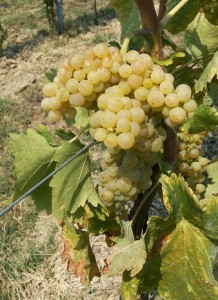 MARCHE
Quantity: +10% in respect to 2014
The year was characterized by a slight delay in the revival of vegetation. Flowering, thanks to the favorable climate, began early, while the fruit set has been slowed by a short period of unstable weather conditions. After that a long period of good weather conditions with temperatures above the seasonal average, anticipated the veraison of at least a week.
The phytosanitary conditions of the vineyards is excellent including the one under biological practices.
The vines in the second half of August has received a good amount of water and an ideal temperatures for photosynthesis, led to the development of an abundant foliage with high photosynthetic activity. The bunches are in average dimensions.
The final results depends on September weather conditions, but for the moment everyhting is in place for a great 2015 vintage.
By 20th of August in le Marche only early varieties have been harvested. The harvest period is ahead by about a week compared to last year. The collection times are as follows: Verdicchio, Passerina and Montepulciano (between the first days of September and early October) Sangiovese (mid-September), Pecorino (from late August and early September).
The recent weeks climate is encouraging the ripening, with more than positive reflections on both aromatic and polyphenolic grapes components. Persisting these conditions, the quality of the wines will be very interesting.
In le Marche region the 2015 vintage will definitely be a year for great red wines, foreseen as rich in structure and great in all characteristics, thanks to the mid-August rains, which avoided the water stress and caused both night temperature and daytime maximum temperatures reduction.
Given the factors described above, the amount of wine for 2015, which in some territories it is also estimated with an increase of 15%, is thought to mark a +10% compared to 2014 in the entire region.
In detail: +15% for the Verdicchio, +5% for the Lacrima di Morro d'Alba; +5% for the Rosso Conero; +10% for the Rosso Piceno.
| | | | | |
| --- | --- | --- | --- | --- |
| Region | Average production HL 2005/2014 | Average production HL 2010/2014 | Production 2014 HL | Forecasted production 2015 HL |
| Marche | 925.000 | 908.000 | 916.000 | 1.010.000 |